Rigging in the entertainment industry course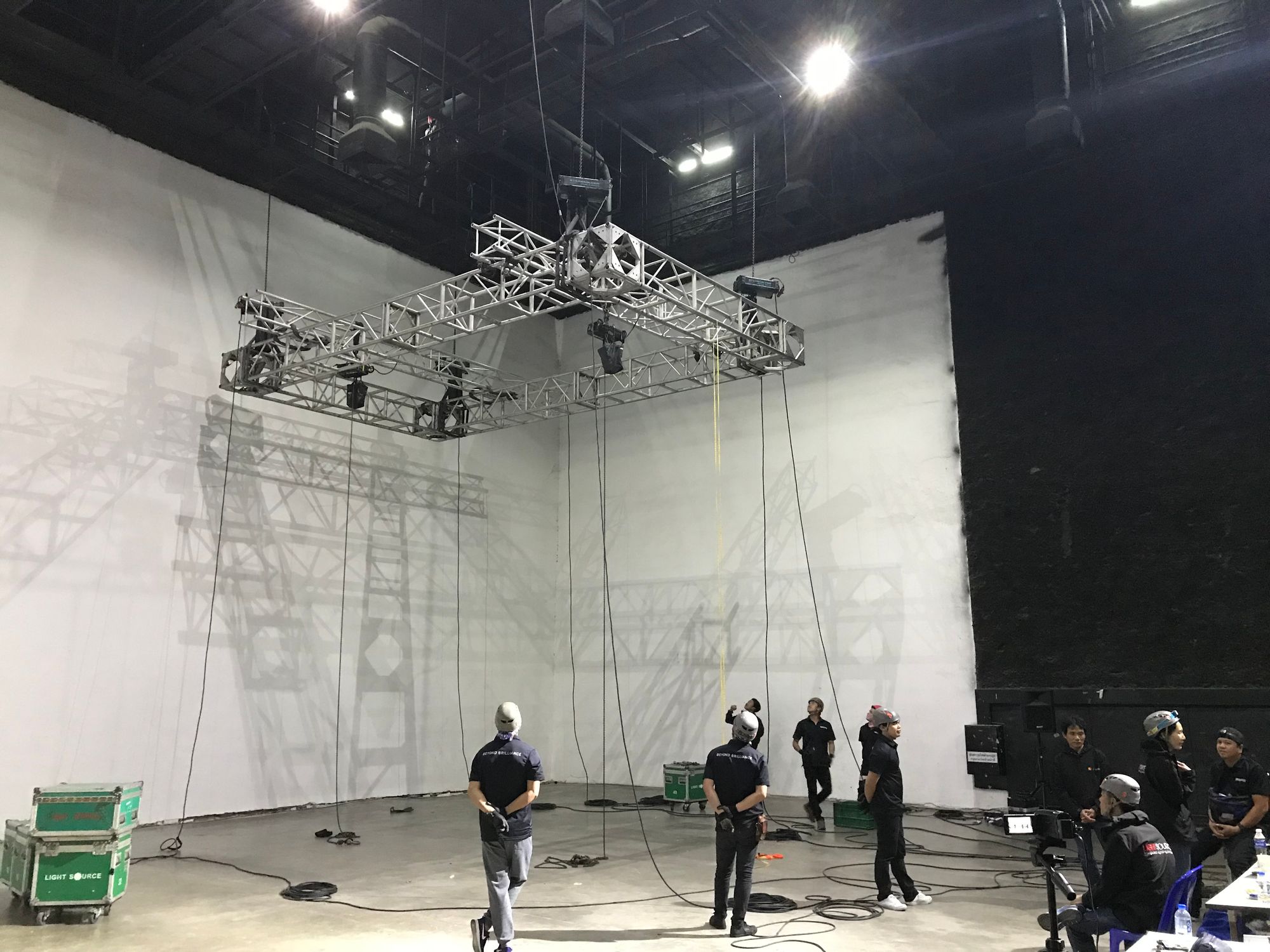 This month we look at the Total Training three-day Rigging for the Entertainment Industry course in our series of articles about the types of training out there, to help you discern which ones would be appropriate for your specific needs.
Chris Higgs, who manages Total Training, gave a detailed presentation about the course (and a brief outline of the aerialists course that he runs) at our 2021 Technical Symposium (80min). It can be found on Circusrigging.info if you are a member. Membership costs just £5 a month/£50 a year and gives you access to exclusive content and access to our events and Slack forum.
Chris is passionate about sharing the knowledge. Aside from being involved in the occasional rigging project or new/trial builds, he's been a full-time trainer since shortly after he started the course at Total Solutions in 1998.
Not that he doesn't get out and about – Chris delivers training at clients' sites all over the UK and beyond, and still manages to teach it at the Total base in Birmingham. He said: "I have a part-time trainer who usually leads at least one of the courses at base, I do the other one and in between train off site."
The content of the course has been developed over the years, and Chris has delivered it in the UK, most EU states, Israel, India, UAE, Singapore, Japan, Iceland, Thailand, China and Australasia.
Chris was one of those instrumental in setting up the National Rigging Certificate (NRC) in 2002, the only rigging qualification in the UK.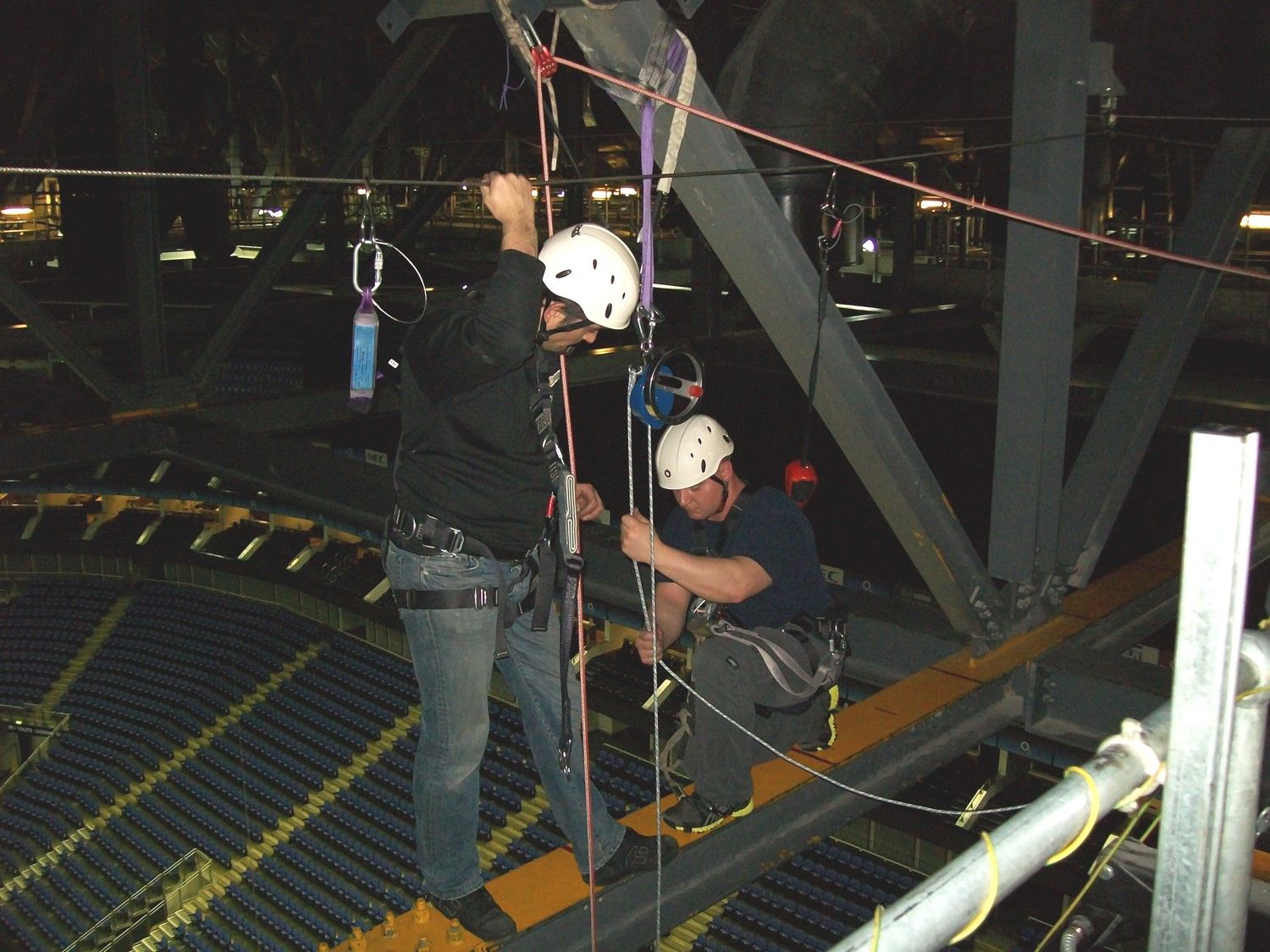 Who is Chris's course for?
It's ideal if you want to make a career out of rigging and you'll learn how to rig in circumstances beyond circus too, so you'll have more employment opportunities.
You can sign up whether you're already working in the industry or if you're a rookie.
Chris says: "The course is for anyone, no assumptions are made about experience or aptitude.
"Plenty of circus people who perform or teach have done it. There are some riggers who work in the aerial/circus community as well as in the wider mainstream of rigging – arena, theatre, corporate, etc."
What will you learn?
An understanding of legal duties including risk assessment, LOLER 1998 and the Work at Height Regulations 2005.
The principles of lifting, how to use equipment safely in slinging and entertainment industry lifting operations, and how to inspect lifting equipment.
Safe systems of work including work at height using Personal Fall Protection Systems (PFPS).
Basic rigging and ropework, the 'open basket' and choke hitches, terminating steel wire ropes.
Rigging motors with steels, round slings, shackles, O rings, STAC and clutch chains.
How to use electric chain hoists and trusses correctly as simple spans and in a box configuration.
An understanding of secondary suspensions, theory and practice.
Chris says: "I believe a person needs to understand their legal and contractual responsibilities, how to do a risk assessment and to understand the principles of lifting.
"But to be a rigger in the entertainment industry, you need to be able to identify and select work equipment; conduct pre-use checks on equipment and PPE; use PFPS correctly; mark out and assemble rigging, tie-in and haul points/chain hoists; assemble and sling trusses; set up and operate hoists in a lift; follow a lifting plan; terminate steel wire ropes and install secondary suspensions."
Chris says: "Participants sign a record of what they've completed, but that does not say they are competent. There is no requirement in law for a qualification to rig. The law requires employers to ensure people are competent, and treats self-employed people as employers.
"The only relevant qualification in the UK is the National Rigging Certificate, and that was designed primarily to provide a benchmark for riggers using trusses and chain hoists."
To demonstrate that you are competent, you'll need to go for assessment for the NRC (more on that below). The Total Training 3-day course may help provide some of the knowledge and skills assessed at either level of the NRC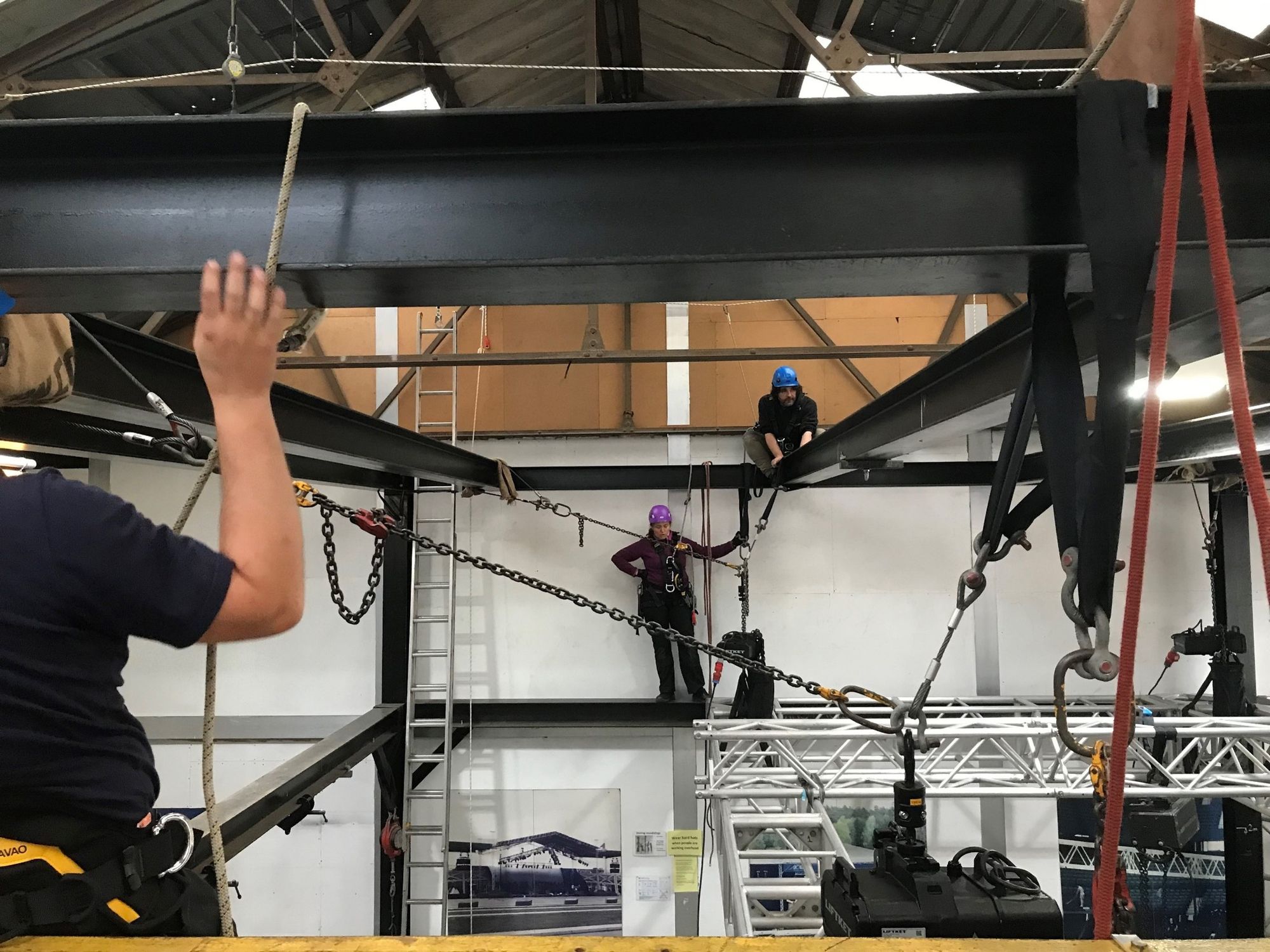 What's the style of training?
It's largely practical with the theory woven into it, and the ratio of participants to trainer is 6:1 so that everyone is kept busy from 10am-5pm each day, and not just observing others doing the work. There are some online training options on the Total Solutions website, which are a product of lockdown. It is usually 1:1 tuition for people who are working as riggers and want to fill in gaps without doing a course.
Chris says: "The last thing people want is a classroom course, in my experience. Some aspects have to be explained using a whiteboard (or chalk on the stage!) but I try to limit that to an hour in any session.
"We provide set pieces using industry standard methods on a purpose-built steel grid structure, then we give the chance to do it over and over so it's well absorbed."
Chris developed the course structure based on three principles:
People's attention span is short
Everyone's equal
People don't know what they don't know
He says: "I started in the late '90s with groups of up to 15 which I learned wasn't ideal. Since 1998 we limited groups to 6 or 8 because people respond far better when they are busy, they focus well because they are part of the process – it's active not passive.
"We give them a problem to solve then create the opportunity to make mistakes or a to find a better, quicker, safer, more efficient way to do it. Everyone is different and has something to bring.
"By getting them to do things in a controlled environment, there's no pressure as there would be on a real job so they have the time to figure things out and learn from the process.
"They get the chance to practice until they're comfortable with a method and learn principles so they can apply those principles when they're at work. It gives people the knowledge and confidence to say, 'I can do this'."
The purpose-built structure at Total Solutions in Birmingham where training has taken place since 2006 is a significant improvement on the previous training space. People can learn at a height where I can see them, and if I'm demonstrating something on the ground, we can each see and hear each other. "We keep it well-lit so that even if that's not what happens when they're out working, they have at least seen it clearly in training so they understand what they're doing."
Total Solutions has partnered with two rigging companies, UK Rigging in Bolton, and Rigging Team in Stevenage, who each have similar structures for training and run the three-day course under license.
Background
Chris's background was in theatre and he did a lot of rock climbing, and since the two areas combined, he started a rigging business in 1979, and began developing the training concept in 1995 by running occasional workshops.
He says: "I never had any formal training myself, but was asked pretty much the same questions about rigging on every job I did. We copy what we see so we need to make sure we apply the appropriate method to the situation. One method doesn't suit all situations.
"There wasn't a lot of training around in the 90s but perfectly able, resourceful and reliable people would observe closely how things were done and learn it quickly. Between shows they may not have had the opportunity or resources to research what they'd picked up on-site. I decided to do something about this. By presenting information, we got a much better job out of riggers and they responded well to the responsibility and the fact that they were investing in themselves. With greater knowledge you make yourself more employable.
"Some riggers are reluctant to share because it meant there would be more competition. We decided to share the knowledge rather than holding on to it."
Future prospects
If you want to work as a rigger in large venues, you will want to gain the National Rigging Certificate because most employers will insist on it.
You don't have to do any specific training in order to gain the NRC, but it may help you gain the knowledge and skills you'll need at assessment for Level 2 and Level 3
Chris says: "The NRC is like sitting a driving test ­– you'll have to demonstrate that you know how to do things that you may actually never use at work but working at height, using fall protection, putting slings round beams and using wire ropes is absolutely the same in most rigging sectors."
Evidence for the NRC assessment for Level 2 (rigger) or Level 3 (supervisor) is a combination of practical and theoretical elements, workplace documentation and most importantly experience. That is documented by witness testimony, submission of rigging plots and inspection records.
The NRC assessors are qualified and assess to National Occupational Standards, they aren't allowed to assess the people they've trained and the assessment process meets the standards required by vocational qualifications in the UK.
The NRC was launched in the Nordic countries in 2017 and is currently being developed by several EU states.
Fuller information is at https://www.plasa.org/qualification/national-rigging-certificate-nrc/#NRC-skills-and-knowledge
And especially for circus people…
Chris also has tailor-made courses for aerial performers and for studio owners/teachers and will happily create bespoke courses on request.
---
In partnership with Articulation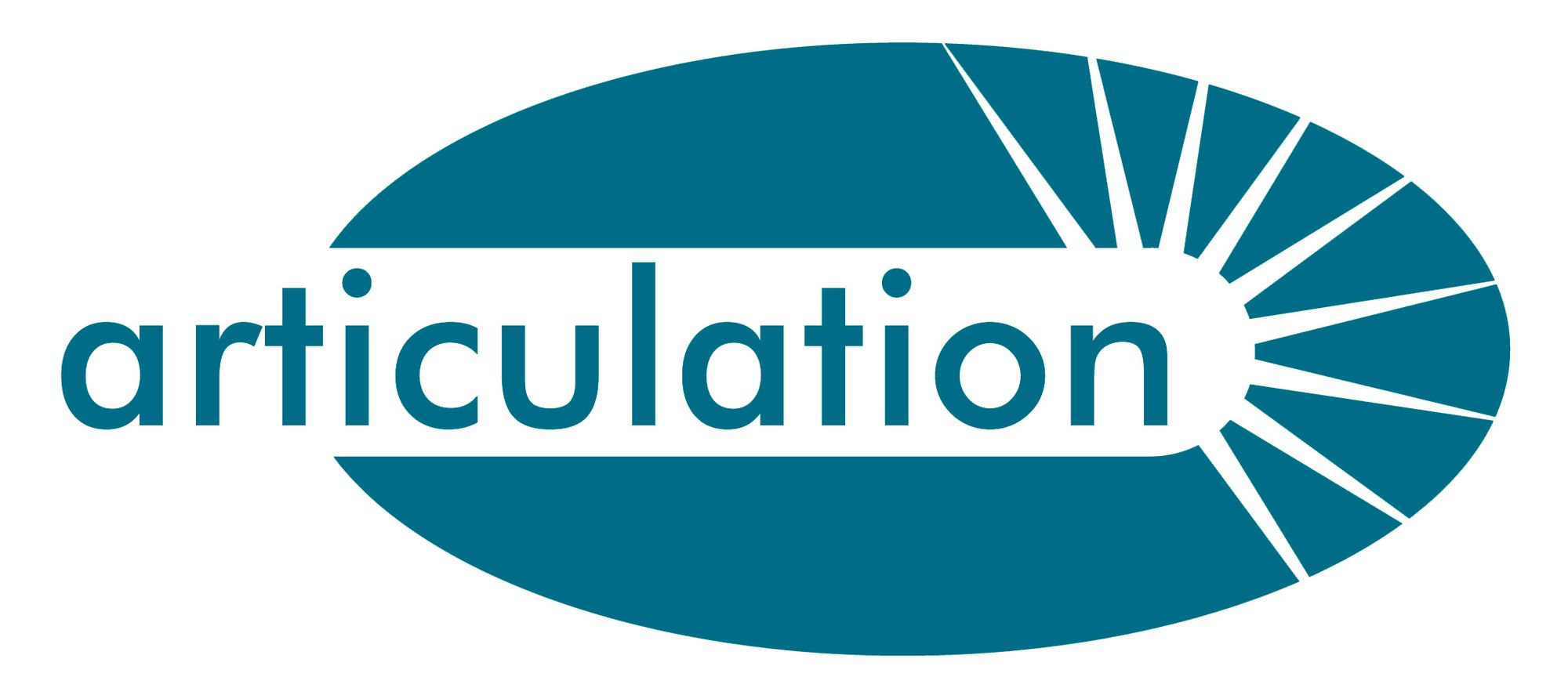 Funded by Creative Scotland