Lesson 1: An Introduction to Circus Rigging
Lesson Duration: 5 minutes. This lesson is a short introduction to our circus rigging course and the subjects it covers.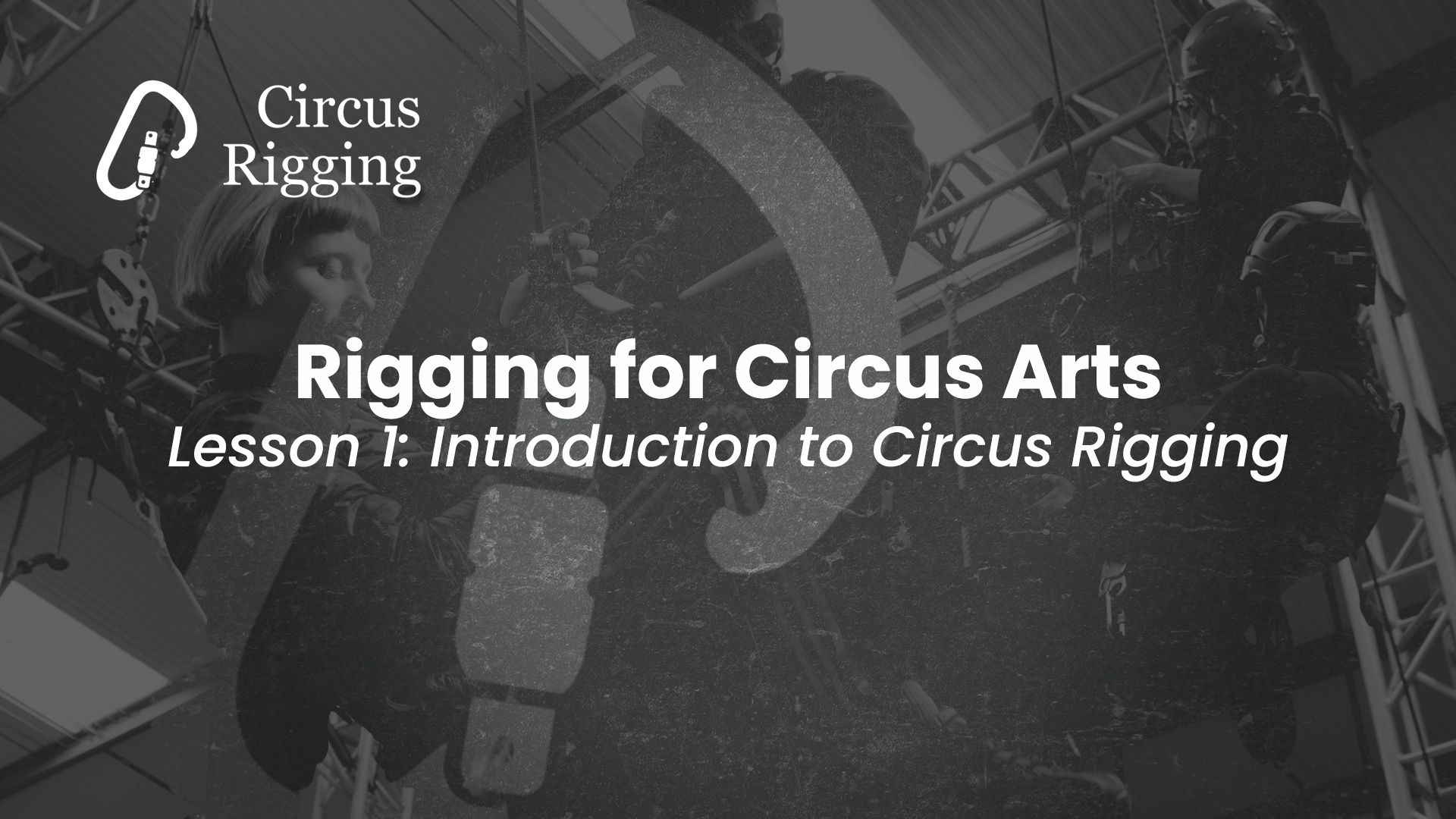 Circus rigging equipment
Circus rigging is a discipline that borrows from many other fields, including the oil and construction industry, the entertainment industry, arenas and theatres, and sports events.
Much of the rigging equipment we use is designed for the purposes of industrial lifting, so is found in the oil industry and on construction sites.
Other equipment where we are lifting the performer or supporting a rigger may be regarded as personal protective equipment and used by climbers or arborists and industrial rope access personnel.
A lot of circus equipment may be specifically manufactured for circus and have its own specific requirements.
Rigging for circus
When rigging for circus performance or setting up equipment for training, we may do this in a wide variety of locations, all of which have unique requirements. The following are examples of scenarios you may face in your work
Rigging Outdoors at a festival where we are erecting a structure in a public place
Supporting a show in a theatre where we can't use the existing theatre rigging and have to set up our own rigging points. We will also be working with theatre technicians and actors on a creating a show
Setting up a training space in a church hall rigging from existing wooden beams
Rigging for a show in an arena flying artists on automation as part of a music concert
Setting up a circus tent, then creating a show and then setting up and rigging for a tour
Erecting a flying trapeze rig
Setting up a high wire between buildings across a public square
Flying multiple performers from a crane
Performing equipment inspections for different organisations
and many more
Each of these requires very different knowledge and experience, which may take years to gain working with experts who work in those areas. However, the fundamentals boil down to the same things
Understanding Forces & Equipment
The first part of rigging is understanding the forces that are being applied by different circus acts and arts so we can determine if the equipment we are using as well as the rigging points we are setting up are strong enough to support those loads.
We need to know how to select the right equipment and set it up correctly for each scenario. We will learn of the many different ways we can rig the same equipment we can also be able to determine the best solution for each different use case. We may need to build different rigging structures or set up rigging points in a building
Safe Access
To be able to rig there, we may need to be working at height. There are many different access methodologies we will need to learn. Rope access, access via truss, MEWPs
Rules & Regulations & Documentation
Different countries have different regulations the UK and the EU have very similar regulations, but there are common sense principles that can be applied in any jurisdiction.
To work anywhere, you must understand the laws that apply to your work, from working at height to working on a festival site or street festival. Lifting operations, Providing safe equipment to employees and customers, laws around rigging in public and private buildings, protections that are required to be put in place to protect the public in performances
One of the best ways we have of protecting everyone is to ensure we have good documentation in place that is required by the regulations as well as helps show we are operating professionally.
We will also need to implement emergency action plans for when the unexpected happens. How will we rescue people stuck at height, and how will we plan this in advance?
Your Exercises
List the different rigging scenarios you think you will be working with.
List the different circus arts you think you will be rigging for
List the ways you think you will need to access your rigging points
Research and list the different regulations that you believe apply to you for your jurisdiction (We will cover specific UK laws in this course)
Next Up
Our next lesson will cover the forces generated by different circus arts