India, Scotland & New Events
Building a Stage in the Jungle
After a month or more of hard work, and more R&D by the local team here in Goa the stage build is nearly finished. We have tested it with a live show, where we had a total of 8 musicians and 13 performers on it. We realise how truely fortunate we are to be in one of the few places in the world where we could do any of this. I only hope this is paving the way to many more collaborations in more places where you rarely see circus.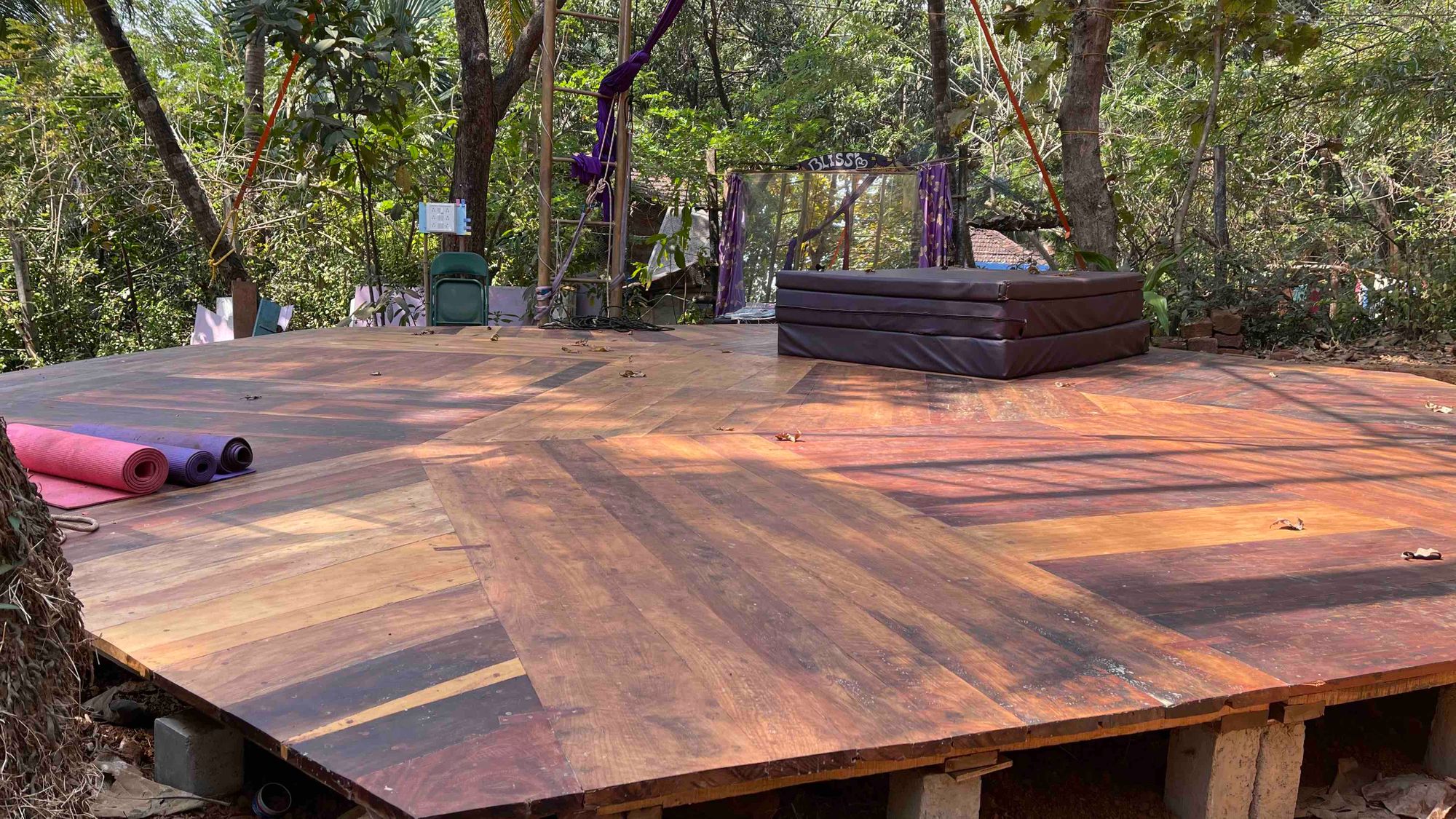 We are now looking at how to preserve our gorgeous new structure from the sun and white ants which can eat up any wood in record time, even dense ancient wood like this. It may be that some of the protective coating had been skipped in the rush to finish the build in time, we're looking in to it. The video on the build process using traditional construction techniques from 1.5 tonnes of reclaimed wood is in the final editing phase so hopefully that will hit our YouTube channel in a week or two.
New Rigging@Home Videos
We have this week released the two latest videos in our Rigging@Home series:
Safe training at home
Setting up a rigging point at home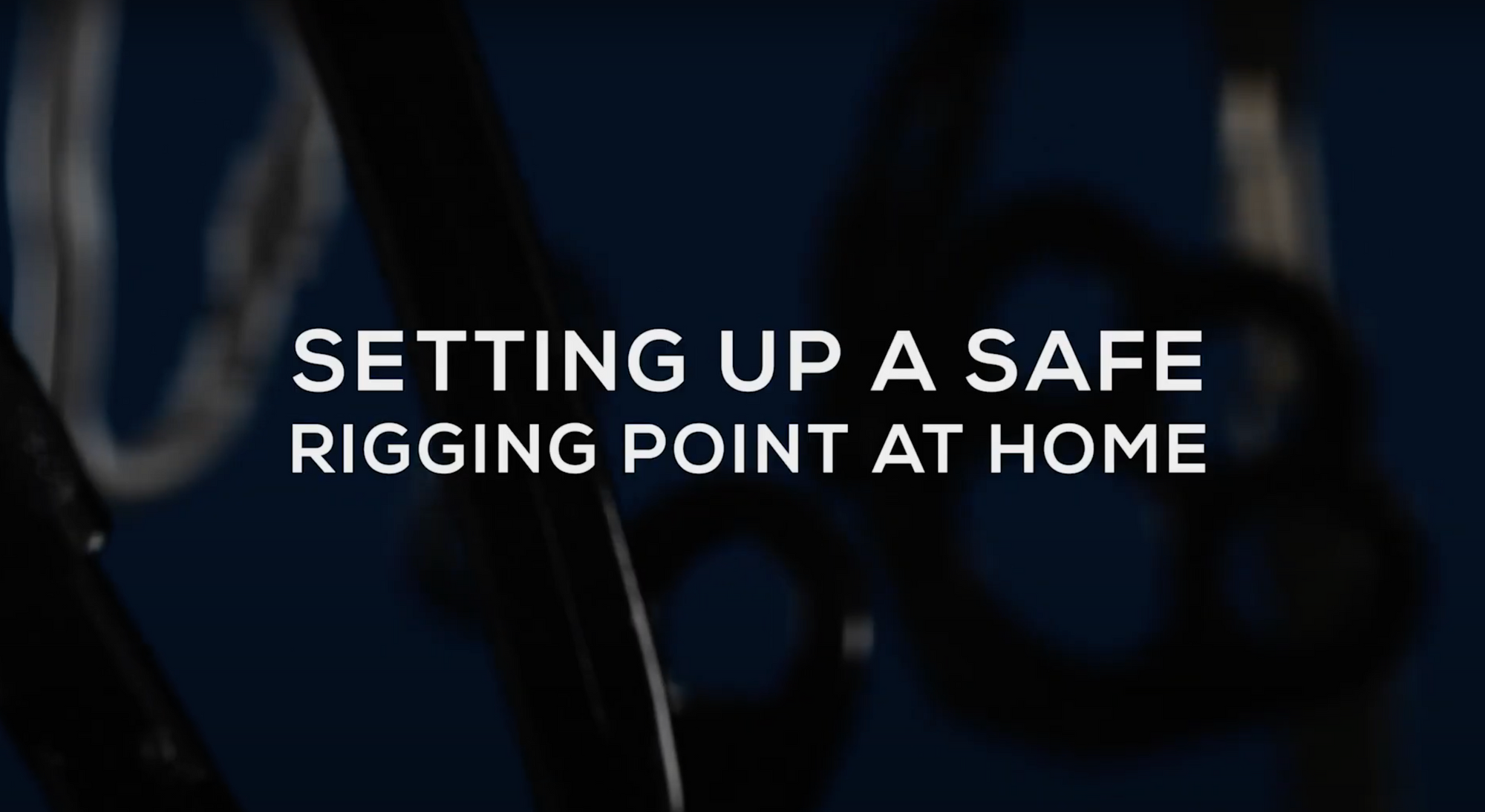 This was the culmination of months of work with the rigging forum together with Gabriel our filmmaker working to produce a comprehensive series of videos on the topic.
Rigging Professionals Meeting: 7th April 10am BST
We are now focusing on publishing more content specifically for rigging professionals including educational content and research. With this in mind the next event we will hold will hopefully help to shape that vision as our April event will be on force testing and factors of safety, which will hopefully bring the work we have done in this area to a conclusion and provide a really useful resource for everyone.
Meeting Agenda
Factors of Safety education content
Force testing process and parameters
Terminology Definitions
This meeting is open to all premium members for free, contact me at mark@aerialedge.co.uk if you have any questions.
2021 Conference – Call for speakers
Last year we held the first rigging conference online just after we started the first lockdown which started off this whole community.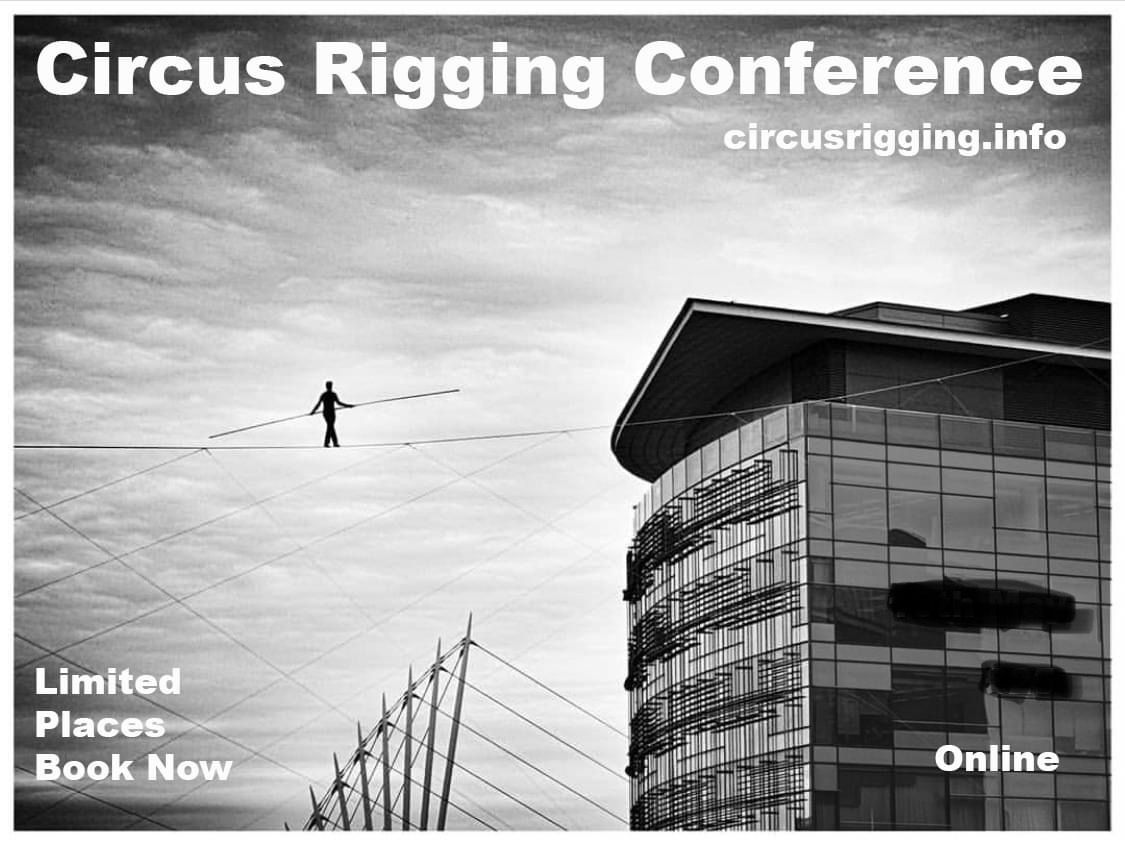 We are now in the process of setting a date for the 2021 Rigging conference which is likely to be in June so we are now putting out a call for speakers. We'd be happy to hear from people who have something to contribute to the world of circus rigging. That could be anything from a new way to safely rescue people from height, new equipment that solves a problem, a case study of a job or a problem that we could all learn from, or anything that helps to improve people's knowledge in this area. Equally if there are burning topics you want answers to then send your questions through and we'll see what we can do.
We'll publish the dates for this in April
Website restructure
As we've created more content for the website it's become necessary to restructure it a little to make it clearer where to find everything. The subscription flow has been changed as well so it's clearer what you are signing up for.
The content is still divided between public and premium. In the public area we are committing to put up safety information for non-professionals and the premium content is where we will continue to develop educational and informational content for professionals.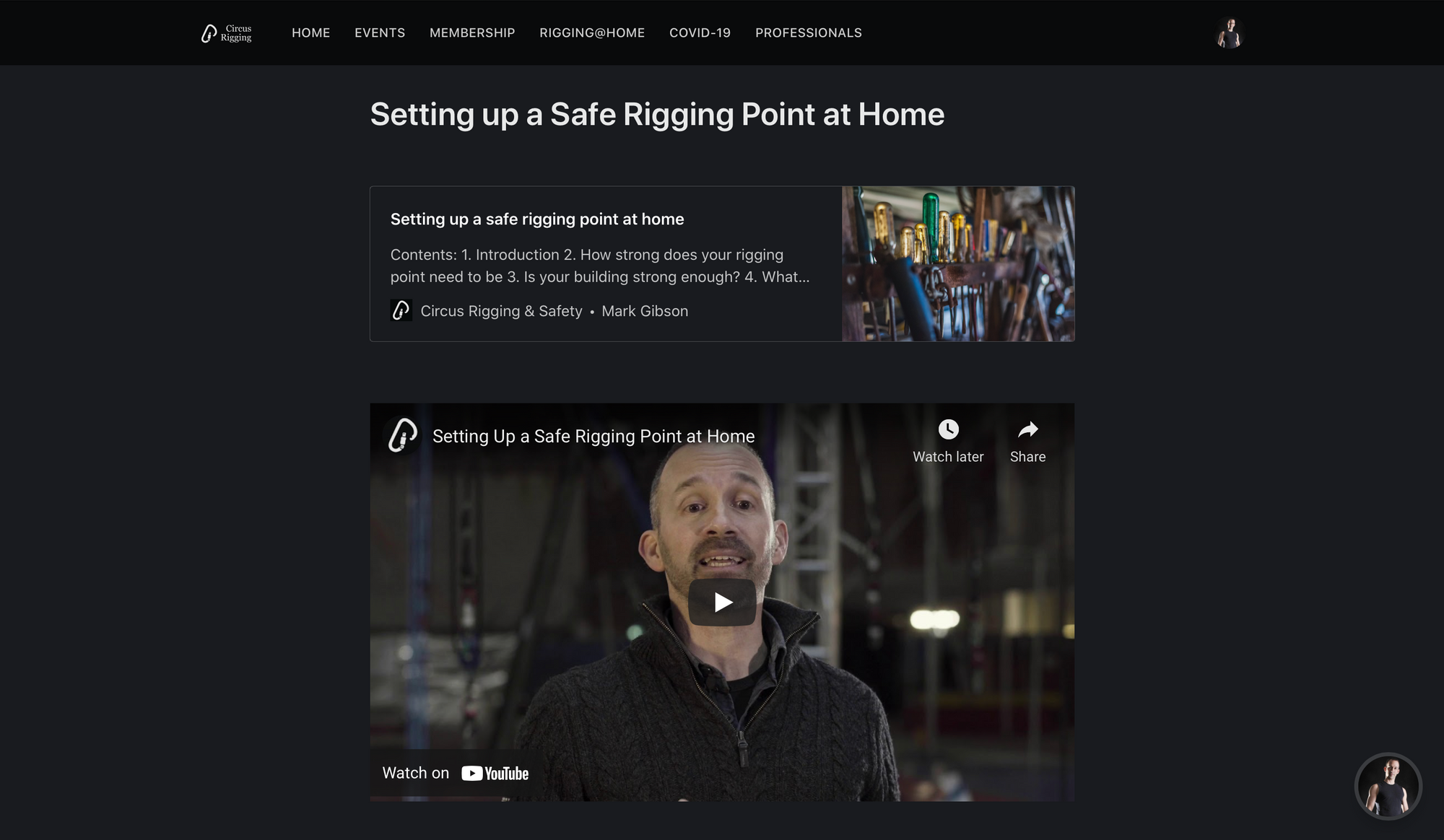 The existing COVID-19 section remains and has been reorganised. We have a new Rigging@Home section which contains public articles and videos for recreational students and parents who may want to consider rigging at home and we have a new Professionals section where we can get a lot more technical.
Aerial Edge
It's been a frustrating time for me to be here in India, although not as frustrating as it has been for everyone else in the Aerial Edge team while they have been working really hard to take down all of the Aerial Edge equipment and plan to move it all out of Kelvin Hall while also searching for new venues.  They have been doing an amazing job to make it all happen.
All of us on the management team have been having heart to heart conversations with Glasgow Life and Glasgow City Council as to where we can move to next. It has helped that the world is far more accepting of remote and virtual meetings than we were a year ago, but I have been burning through Skype credit to have actual telephone conversations to get to those harder to reach parts of local government.
Cath Knowles, my co-director, has been knocking down the doors of estate agents and visiting new venue possibilities. Scott Craig, our operations manager, and our instructors have been dismantling all of our equipment and preparing it for storage. I've been fortunate to have them both going out to potential venues and bringing me along via video calls so we can inspect different buildings for their rigging potential. Hopefully once we are ready to start rebuilding we'll have the time to take you along for the journey and capture it all on video.
Himalayan Circus?
The 3-month professional training course, along with the recreational and artistic programmes we've created here in Goa will be coming to a close in April and it will soon be too hot here to train or possibly even to move. So the question is where to go next? While there is an expensive quarantine waiting for me on my return to Glasgow I'm also weighing up other possibilities.
Along with April Ananda Bliss I took a 10-day trip last week to the Himalayas, and got to see a whole lot of India along the way. We went by train (26 hours) bus (12 hours) and a car (4.5 hours) to find cooler places to move to. We spent some time researching how and where we could set up a training space in the mountains so we could keep training through the summer and the monsoon.