Next event
We are aiming to schedule the next livestreams on the following topics and will announce dates as soon as we have some gold for you!
IRATA Training
Inspections
Risk assessments
2021 Events
October 5th to 7th: 2021 Technical Symposium - Details are here
August 13th @ 4 pm: Force Testing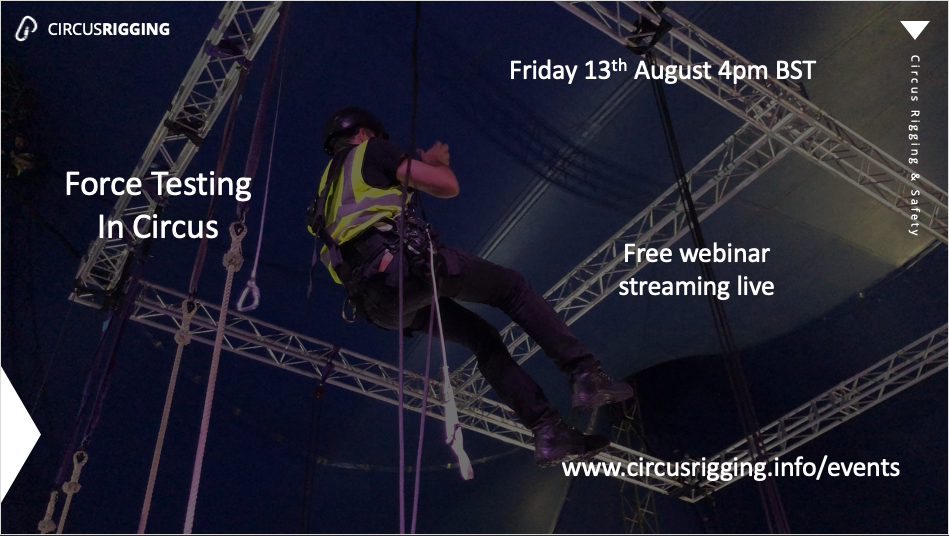 Chris Higgs, Ryan Watson, Mark Gibson presented a session on the force test data collected over the last few years in the UK. We also had an interview with Marion Cossin on her research paper "Making single-point aerial circus disciplines safer" as well as some information on her current research due for publication later this year.
Catch up right on our YouTube channel.
July 7th @ 4 pm: Factors of Safety Webinar - View Webinar
May 11th: Factors of Safety Working Group
April 7th: Factors of Safety Working Group
2020 Events
28th August: Practical COVID-19 Solutions for Circus Schools
24th August: Factor of Safety Working group
24th July: Performer Handling with Brett Copes
13th July: Factor of Safety Working group
10th June: Circus Training with COVID-19
19th May: Circus Rigging Conference 2020